Running with a friendly partner makes us feel stress-free. Dogs play an important role in running companionship. Especially taking puppies to run, we need to be aware of certain facts. Puppies are allowed to run once if they are matured enough. The type of dogs that have short physical features such as Pug, Shih Tzu and Chou Chou cannot overwork because it has breathing troubles and short legs.
So these types of dogs can be taken for running for a short duration only. Some breed of dogs such as Labrador, German shepherd, Golden retriever, and Dalmatians are considered good running partners. Puppies are too young like babies. The puppies start to walk at the age of twenty one-twenty eight days. The bone development of puppies takes place nearly six to eight months duration. The puppy has to be taken for a short walk. After going for a regular walk schedule, the puppy can start running practice.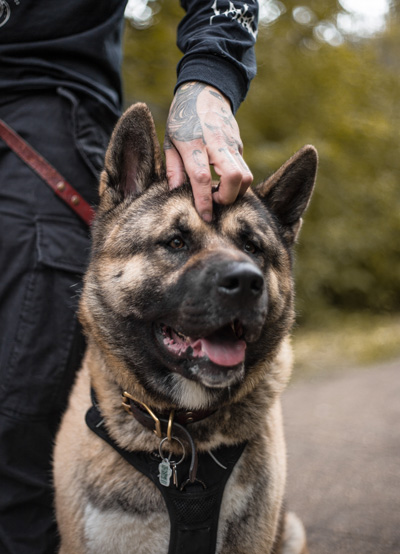 Introducing german shepherd puppies to running
A Slow walk of puppies can help them to improve better bones and muscles. So we can take the puppy to walk inside the home premises like a balcony, garden, and backyard once they are practised with the short walk schedule. These puppies can be taken for a long walk. After the long walk practice, the puppy can be introduced to running. After introducing the puppy to running, the puppy cannot be forced to run for miles. The puppy can run for a short distance. The short distance running can make the puppy active, and it is an exercise to the puppy's body.
Shouldn't take puppy running with you
Humans have more energy stamina. Comparing people puppies are too younger once which can be exhausted easily. So we shouldn't take a puppy for long-distance running with us. Running creates a health-wise impact on the puppies. It is a repetitive action that affects knees, joints, bones as well as the muscle of the puppies. Speed is a major drawback in running which may exhaust the energy of the puppy. It creates an impact on cardiac and muscular systems. Initially while on the first day of running if the bones and knees become weak for the puppies. The dogs/puppies have a temptation to hide the injuries and pretend to be active. So repeated walking on successive days will result in major injuries for the puppies. Warm-up is the best way to make puppies adopt to run for a short distance. The puppies can do short-distance running that too in a lighter way. At the maximum, we should avoid giving heavy running to puppies.
Jogging can be harmful to puppies?
Jogging is an excellent form of exercise to maintain physical fitness. People who buy new puppies want to maintain the fitness of the puppy. It is a healthier thing to maintain fitness both for humans as well as dogs. In earlier days puppies have a soft skeletal system. For this reason, we must be cautious while taking puppies for jogging. It is best to avoid a rigorous workout during the first year of the puppy because the body of the puppy is not matured. Prolonged workout during jogging leads to injury of the growth plate of the puppies. This growth plate injury may lead to permanent deformities in bones. So it is better to avoid jogging at the early stage of the puppies.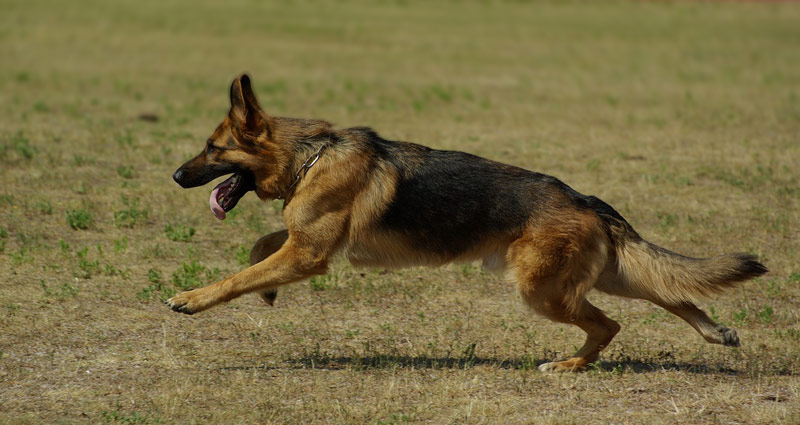 German shepherd originated from Germany. The height and weight of the dogs are about 55-65cm and 22-40kg. This well-built appearance of these dogs helps them for long-distance running. It has excellent intelligence and potential working ability. If proper training is given, these dogs are capable of assisting police and military services, explosive detection and acting. It has a better sense of alert. A German shepherd is capable of running a long distance from five to twenty miles. It is because of Well built body muscles and longer legs. The German shepherd can be trained as an athletic type of dog depending upon the training period. A German shepherd is easy to train up as an athletic dog. The speed of the German shepherd is thirty miles per hour. These German shepherds are weight gaining breeds. So it is necessary to exercise regularly to maintain fitness for these dogs. These dogs are able to involve in walking, jogging, swimming as well as running.
How to train a German shepherd running with you
A German shepherd is one of the best breeds for running. "Walk and jog before you run" we should follow this caption as the first step of training the dog. These dogs have stronger stamina for long-distance running. The training steps are as follows:
01. This dog training starts with teaching basic commands like sit, stand and lay down. The puppy will start listening to your word at the 8th week of age.
02. A shorter running session for 20mins in 2 weeks is more helpful for the dog to learn running strategy.
03. Give rest to the dog in between training sessions with food and playthings. This makes the dog stress free and energetic. Hence the dog will become more active at another session of running practice.
04. The person who is accompanying dogs while running must be friendly and supportive of your dogs. Don't force the dog to cover a target distance.
05. Give positive commands to your dogs during training. These dogs are more intelligent so they will learn the running strategy quickly compared to other breeds.
At what age german shepherd puppies like going for runs?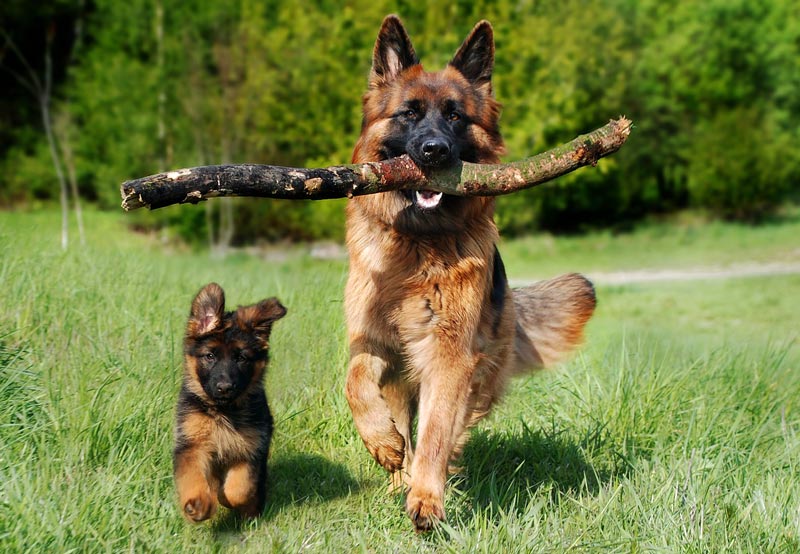 German shepherd at the age of two years or less than two years has a different training pattern. This is the developing stage of bones and muscles of the young puppies. Puppies need plenty of rest and sleep. Till six months the puppies are ready to go for a walk. This makes the puppies physically active. After twelve months, the puppy will start to mature by growth. This makes the dog physically fit for running. German shepherd breed is strongly developed and well-built, so running is one of the talents in the breed. The character of this breed puppy includes loyalty, courage, and confidence ability to learn many tasks. If we train properly, the German shepherd breed will run for miles of distance. The puppies need training in social behavior and adapting to a new environment. Then it can be trained for running a long distance.
Running the dog how much
The running distance depends upon the training given to the German shepherd. A healthy German shepherd can run a distance of 5-30miles per hour on average. Above this running limit, it is too much for the dog to run a greater distance. Some of the factors are as follows, which influences the running speed of the dog.
1. the health of the dog,
2. level of training and
3. age of the dog.
Here is our latest blog post- Labradoodle Breed Information I think you may also like.
How to train a 4-month-old puppy of GSD?
The training of puppy socialization is the main part of the GSD puppy. Socialization is nothing but mingling with new persons in the environment. At the early stage, the puppy will learn a lot things from mother. So it should not be separated from the mother. The puppy cannot be forced for over-exercise until one year of age. Then potty training is also essential for the puppy. GSD is an intelligent breed. Hence it is easy to train it.